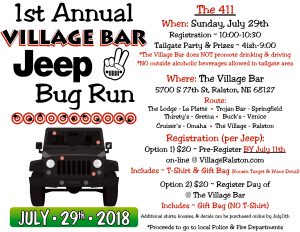 The 1st Annual Village Bar Bug Run is being held on July 29th. To pre-register and/or purchase other merchandise click  http://villageralston.com/shop/.  Pre-Registration is $20 per vehicle and will get you an event t-shirt (make sure you choose your size), 1 event koozie, 1 static cling target, 1 wave decal & a gift bag.  You will only be guaranteed a t-shirt by pre-registering.
The bug run is similar to a poker run. Instead of getting cards at the stops, you will place the target anywhere you would like on your Jeep. At the end of the run we will measure the bugs on all targets, closest to bulls-eye wins cash.  Additional targets can be purchased the day of the event for $2/ea or 3/$5. The idea is to have fun, meet new people and enjoy the ride, while raising some money for our local police and fire departments.
For up to date details or questions check out the Facebook event page @ https://www.facebook.com/events/194143011231541
*WHEN SIGNING UP DO NOT CHANGE THE QUANTITY FROM ONE.  IF SIGNING UP MORE THAN ONE VEHICLE ADD THEM TO CART AS SEPARATE ITEMS AND CHOOSE SHIRT SIZE ACCORDINGLY
*NO GUARANTEE SHIRTS OR OTHER MERCH WILL BE AVAILABLE DAY OF EVENT.
**THE VILLAGE BAR DOES NOT PROMOTE DRUNK DRIVING.